House Republican PAC Comparison. The Speaker of the Texas House typically administers a campaign Political Action Committee to protect the party's incumbents and overall majority in the House. The Texas Leads PAC, established by House Speaker Dennis Bonnen before he announced that he would not run for another term, had collected more than $3 million in contributions. Bonnen's Texas Leads PAC has so far contributed to only a few members: Briscoe Cain, Dennis Paul, Phil Stephenson, Dan Flynn, Chris Paddie, Geanie Morrison, and Jared Patterson.
In the wake of the speaker's decision to step down, two other PACs have begun to collect significant contributions from members and other donors in an effort to bring stability to the caucus's fundraising operation. The Leading Texas Forward PAC, established by Republican Chairman Geren, Price and Darby and led by Karl Rove, requested $25,000 from each member of the House Republican Caucus and has raised a total of $478,487. In total, 24 members have contributed to the PAC. The Texas House Republican Caucus, meanwhile has collected $370,119, including contributions from 22 members from the House Republican Caucus contributing in excess of membership dues. Below is a chart showing which members of the Republican Caucus have contributed to each PAC, with an asterisk denoting those members who have contributed to both. Only members who have contributed in excess of their membership dues are listed for the House Republican Caucus PAC.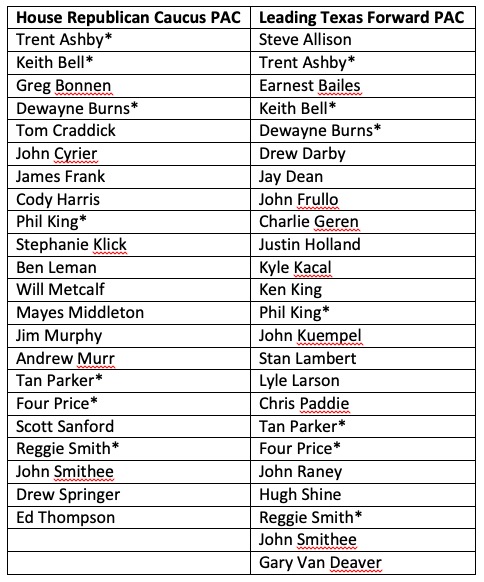 More information on fundraising can be found at the Texas Ethics Commission.
HHSC Executive Commissioner Resigns. Courtney Philips, the Executive Commissioner of the Texas Health and Human Services Commission, is stepping down to become secretary of Louisiana's Department of Health. "Upon deep reflection, I have decided to return to my home state to serve as Louisiana's Secretary of Health and be closer to my family and loved ones," she wrote in a resignation letter to Governor Greg Abbott on Wednesday. Philips formerly worked at the Louisiana Department of Health and Hospitals and holds three degrees from universities in Louisiana.
Interim Committee Hearings. House Committees will meet for the following upcoming interim hearings:
Culture, Recreation & Tourism: February 20 in Victoria
International Relations and Economic Development: February 21 in Laredo
Transportation: February 21 in Laredo
Pensions, Investments, and Financial Services: March 9 in Austin
Redistricting: March 24 in Laredo
Senate Committees will meet for the following upcoming interim hearings:
Veteran Affairs & Border Security: February 24 in Harlingen
Finance: February 25 in Austin
Transportation: February 26 in Austin
State Affairs: February 26 in Austin
Mass Violence Prevention and Community Safety: March 10 in Austin
Education: March 11 in Austin
Finance: March 25 in Austin
More information on committee meetings can be found here for the House and the Senate.