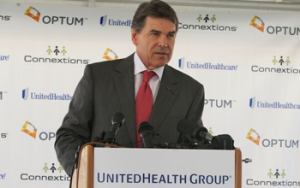 Office of the Governor
Rick Perry 
For Immediate Distribution Governor's Press Office: 512-463-1826
June 26, 2012 Catherine Frazier: catherine.frazier@gov.texas.gov
Press Release Lucy Nashed: lucy.nashed@gov.texas.gov
Josh Havens: josh.havens@gov.texas.gov
 Text of Gov. Perry's Remarks at UnitedHealth Group's Economic Development Announcement
June 26, 2012
IRVING – Gov. Rick Perry today touted Texas' strong business climate during a press conference hosted by UnitedHealth Group. The company announced plans to create more than 1,000 new jobs statewide. No state economic development incentives were pursued for this expansion.
UnitedHealth Group is a major employer in our state, currently serving 3.3 million Texans, and employing more than 10,600. After hiring 800 more here in Irving, a few hundred more in San Antonio and Harlingen, and several hundred more in a new Customer Support Center in Sugar Land, that number should soon crest 12,000.
In fact, if UnitedHealth Group were based in Texas, now there's an idea, it would represent the fourth largest company in our state. So this is an employer that knows Texas and knows Texans. They've witnessed first-hand what we have to offer, and, as a result, they're continuing to invest their future in the Lone Star State. That's what you might call a vote of confidence, and it affirms our efforts to create a jobs-friendly climate that will attract and just as importantly, keep employers like UnitedHealth Group here in Texas.
These employers are drawn here in the first place because they know our combination of low taxes, predictable regulations, fair courts and world-class workforce simply can't be beaten anywhere else in the country.
That's not just me talking, either.
Texas continues to receive accolades from the business community and the business media. Chief Executive Magazine, in fact, recently published the results or their survey of the country's CEO's, and for the eighth straight year, they said The Texas economic climate is tops in the country. Similar praise can be found from media outlets like USA Today, Forbes, Site Selection Magazine and CNBC.
This isn't about getting good press however, it's about bringing jobs to people who need them. It's important to remember that each and every job created in Texas can mean a new start for a Texas worker, a better quality of life and more opportunities for their family. It's also important to remember that as good as UnitedHealth Group will be for Texas, Texas will be good for UnitedHealth Group.
This is a state that's dedicated to giving each and every business its best shot to succeed. Employers in states that might not put such a premium on their business climate can see that. They see that Texas is the place to come to escape crippling tax rates, job-killing red tape and lawsuits that are as endless as they are frivolous. They also see we are committed to the sound conservative values that have helped us build such a strong economy in the first place, and make no mistake, stability and predictability are key to anyone looking to grow a business.
Here they can relax a bit because they know that in Texas, "balanced budget" and "sound fiscal stewardship" aren't just words, they're how we do business, year in and year out. And we're seeing the benefits of that each and every day, benefits that can be measured in jobs.
As we stand here, Texas has long regained all the jobs lost in the recent recession, and we're building on that success. Over the last five years, from May 2007 to May 2012, Texas employers have added 359,000 private sector jobs over the same span of time the nation lost nearly 4.3 million. Our unemployment rate has been well below the national average, even as our population swells with job-seekers coming here from all across the United States.
The majority of credit, of course, goes to the talented and innovative men and women of Texas who put in the hard work necessary to make any business a success.
Without a solid fiscal base to build on, however, even the most promising venture can get bogged down and founder. That's why we've worked hard in Texas to keep our economy as sound as possible. In fact, a report released just last week by the Illinois state auditor determined that Texas was in the best fiscal condition in the country.
The state in the worst condition was Illinois itself, you can make what you want out of that.
Bottom line is, the Texas Way works. It works for major employers like UnitedHealth Group. It works for any number of small businesses just getting their feet under them. Most importantly, it works for Texas workers and job seekers.
Again, it's a pleasure to be here today, as we emphasize once more that Texas remains the best place in the nation to live, work, build your business and raise your family.
May God bless you and, through you, may he continue to bless the great state of Texas.