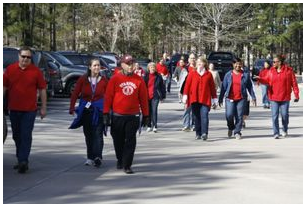 It was all about the heart health at Insperity's corporate headquarters in Kingwood Feb. 13.
A day before Valentine's Day and in an effort to raise awareness about heart disease, around 600 Insperity employees formed a large heart outside of their offices. They also presented a $10,000 check to the American Heart Association.
"This event demonstrates Insperity's ongoing commitment to the community and its employees," a press release about the special event read. "Employees receive 12 paid volunteer hours per quarter, and this event alone can total more than 600 volunteer hours."
This demonstration also kicked off Insperity's annual heart walk where employees had the chance to walk a designated route around the campus.
According to the American Heart Association, heart disease claims a life every 33 seconds, which translates to 65,400 lives lost during a 600-hour period. Raising awareness of heart health can help dramatically reduce the number of lives lost.
The heart the employees formed symbolized their commitment to heart health and their support of the American Heart Association.