Sales Tax Revenue Rebound in July 
This week, Comptroller Glenn Hegar announced that state sales tax revenue totaled $2.98 billion in July, 4.3% more than in July 2019.
"Collections from e-commerce were up sharply, as many consumers chose to shop online rather than at brick-and-mortar stores," Hegar said. "Also, more online marketplace and remote vendors are required to collect and remit Texas tax following the Wayfair decision and subsequent legislation passed last session. Increased time spent at home both for teleworking and staycations, in lieu of leisure travel, spurred sharply higher spending for home improvements."
"With about 1.3 million Texans with continued claims for insured unemployment and another 184,000 receiving benefits under the Pandemic Unemployment Assistance program in June, it's likely that consumer spending was significantly supported by enhanced benefits provided by the federal CARES Act and related legislation enacted in response to the COVID-19 pandemic. With the expiration of these benefits at the end of July, consumer spending and sales tax collections may decline in coming months."
Total sales tax revenue for the three months ending in July 2020 was down 5.3% compared to the same period a year ago. Sales tax is the largest source of state funding for the state budget, accounting for 57% of all tax collections. The effects of the economic slowdown and low oil prices were evident in other sources of revenue in July 2020, though most were improved compared to previous months.
Texas collected the following revenue from other major taxes in July:

*Alcoholic beverage collections were inflated by a delay in liquor tax remittances, resulting in the July receipt of four months' worth of remittances in liquor taxes due to the Texas Alcoholic Beverage Commission. Mixed beverage gross receipts and sales taxes, which typically make up the bulk of monthly alcoholic beverage tax collections, were down 41 percent compared to July 2019
Fiscal 2020 franchise tax collections, which were deferred to July, totaled $4.17 billion, 4.8 percent more than in fiscal 2019 year-to-date.
Early Voting Extension for the November 3 General Election
Last week, Governor Abbott extended the early voting period for the November 3 election. This change is intended to reduce crowds at polling places and allow Texas voters to cast their ballots with confidence that they are protecting themselves and those around them from COVID-19. The extended in-person early voting period will take place from Tuesday, October 13, to Friday, October 30.
Business in Texas
In its recent 16th Annual Rankings Report, Business Facilities Magazine ranked Texas as the state with the best business climate in the United States. The State's exceptional business climate is enhancing Texas' economic recovery from the COVID-19 pandemic by attracting new employers and creating economic opportunities for all Texans. As an example, the Texas manufacturing sector continued its recovery through July.
Along with this, according to KPMG's 2020 Customer Experience Excellence report, two notable Texas companies were ranked as America's best for customer experience. USAA ranked first with H-E-B in second place, exemplifying Texas' unmatched hospitality and business prestige.
Hurricane Hanna Response
On Tuesday, July 28, Governor Abbott visited the Coastal Bend and the Rio Grande Valley, two communities impacted by Hurricane Hanna. During this visit, Governor Abbott assessed storm damage and met with local leaders and state legislators to discuss aid for Texans affected by the storm. Governor Abbott expressed commitment to aiding these communities.
The Rio Grande Valley has also been hit hard by COVID-19. Additional resources have been put in place to combat the spread of the virus. The McAllen Convention Center has been temporarily converted into a healthcare facility to ease community hospital capacity issues.
Also, this week, FEMA approved Texas' request for Public Assistance Category B in the wake of Hurricane Hanna. The damage caused by the storm has been declared a federal emergency. Texas is collaborating with federal and local governments to recover and rebuild the Rio Grande Valley and Corpus Christi communities.
Coronavirus Updates
COVID-19 hospitalizations in Texas are now trending down. Texans must continue to follow health protocols and precautionary guidelines such as wearing masks in public, staying home when possible, reducing the size of gatherings, and social distancing. The adherence to these protocols will allow the State of Texas to remain open for business.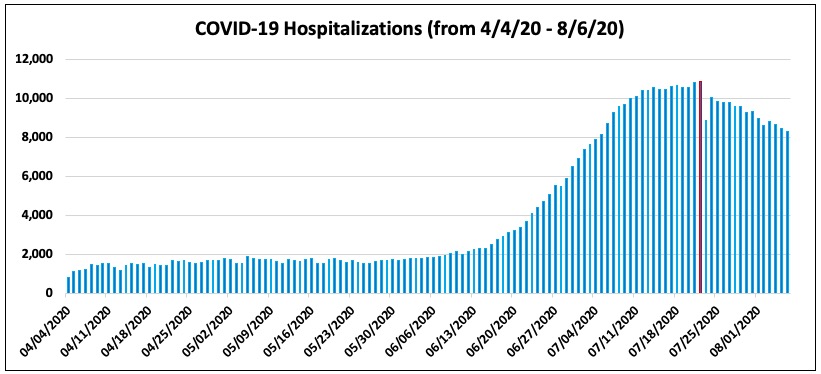 Additionally, the seven-day average of new daily case numbers has flattened and is beginning to decline.

Flexibility in Response to COVID-19
Last week, the Texas Health and Human Services Commission extended SNAP renewals and waived interview requirements for six months. Texas HHS Access and Eligibility Services Deputy Executive Commissioner Wayne Salter said "these automatic renewals provide food security and peace of mind to families in need during this unprecedented time [and] . . . reinforce[] that it is important to stay home when possible to minimize potential exposure to COVID-19."
Additionally, Texas has also waived the grade promotion requirement for STAAR testing during the 2020-21 school year. According to Governor Abbott, this waiver will "provid[e] greater flexibility for students and teachers, while at the same time ensuring that Texas students continue to receive a great education — which we will continue to measure with high quality assessments."